Comfort and wealth at
Hotel Yapahuwa Paradise.
---
It's quite clear to anyone who drops in at Hotel Yapahuwa Paradise, that you are fortunate enough to feel the archeological values wonderfully bound together with natural beauty - brought to you through a personal balcony or terrace with a panoramic view. Inside this Paradise you can have whatever you want, as we have arranged all the guest facilities with many indoor games and without a doubt you can experience numerous mouthwatering european dishes and classical cuisine amazingly blended with Asian flavors. This wonderland provides you the ever-best moments during your stay and serves as location for banquets and conferences.
---
Where we are
Hotel Yapahuwa Paradise is situated 110km away from Colombo International Airport. The world famous Yapahuwa Rock fortress is only 800m from the hotel. Yapahuwa is an ancient kingdom, which is very famous for its marvelous rock with a height of 90 meters and situated at Kurunegala, north-central province of Sri Lanka. So, you are able to experience the impressive aspects of the kingdom directly from our hotel. Yapahuwa kingdom was established by the king Buvanekebhahu. There are still visible remnants of the ancient capital of the kingdom, established in the era of 13th century, like citadels, fortresses, shrines, monasteries, hermitages, buddhist temples, walls and moats. Also you can eyewitness the historical monuments of 13th Century. This Kingdom sheltered the sacred Tooth Relic of Lord Budha for 12 years, which gave the authority to rule the Country to the Sri Lankan Kings. Now the Tooth relic is kept in Tooth relic temple in Kandy being worshiped by thousands of People every day. From Hotel Yapahuwa Paradise you have an approach to the other earlier established kingdoms such as, Anuradhapura, Polonnaruwa and Kandy just around the corner. We can always assure another fact: You are in the center of access to number of places like, Anuradhapura, Polonnaruwa, Sigiriya rock fortress, Dambulla Golden temple and rock, Wilpattu National Park, Peradeniya botanical garden, Pinnawala Elephant orphanage and Dolphin, Whale watching & Kite surfing Spot in Kalpitiya.
Hotel Yapahuwa Paradise
A unique place.
Exclusive suites, a restaurant with beer garden and Wellness centre
Hotel Yapahuwa Paradise offers wellness facilities with world renowned Ayurveda Paradise Maho - Here you can receive all wellness facilities to pamper your body according to the ancient knowledge of Ayurveda.
Chilling with a beer and sitting on the bench in our Bavarian Beer Garden creates atmosphere of a traditional style. It will be a wonderful feeling for you to cool down your body with many more recreational events. Hotel Yapahuwa Paradise offers unforgettable memories: Never-ending luxurious facilities combined with the preserved culture of Sri Lanka.
What does our resort offer?
Exclusive Accommodations
Apartments with Seeview and our Luxus Water Villa.
Hotel exclusive Pool
Enjoy a drink and take a sunbath at our poolarea.
Wi-Fi
You have access to Wi-Fi in the whole hotel area.
24h service
Any questions? Call the reception at any time.
Restaurant & Bar
With draught beer and locally grown fruits and vegetables.
Also available: selfmade German granary bread.

Beer garden
Would you like to have your beer the German way? Relax in our wonderfull beer garden
Modern bathrooms
Every single of our apartments comes with its own bathroom.
Locker service
Don´t worry about your valuables. Our locker service takes care for you.
Read reviews of our guests
Perfect rooms. Great beds. Beautiful garden. Dedicated staff. Environment of hotel is spectacular, especially the yapahuwa fortress.

Nice place. Good service all the way around. There is also a facility for taking weddings. There is a car park. And a hood place for holidays :)

Womderful place to get natural wind and natural ayurvedic treatment including massage, can spent time with western and herbal meals as we want.
Book your stay now.
Check the availability of our rooms
Western & Sri Lankan kitchen
Cooking is an art. But Sri Lankan cooking is beyond that art, as it is blessed to improve your health. Here in Hotel Yapahuwa Paradise you have that chance to taste all kind of Western and Sri Lankan cuisine.
Master chefs in Paradise are in action to blend the ingredients to create any of your favorite dishes. Variety of mouthwatering food will definitely make your stay at Hotel Yapahuwa Paradise delicious.
Weddings &
Honey Moon
Express your love to your loved one. Make your big day unforgettable. Consist your love forever and shine your wedding-day with Hotel Yapahuwa Paradise. Find your own space in our banquet hall and let us arrange your evening with our special Honey Moon Arrangement with flower decorations, candlelight dinner and many more lovely events.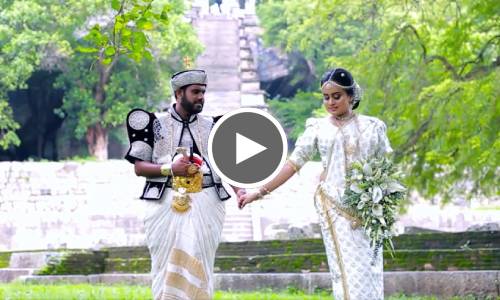 Day Outing
Exit from your stress and the busy schedule of your day to day work and spend the day with us at Hotel Yapahuwa Paradise. The 40 acres of land in the middle of the nature will wipe out your whole stress and it will give you the chance to enjoy the time with your friends, families & co- workers. We provide you the venue with playground, swimmingpool, pavilion, delicious food and much more.
Photo Shooting
There is no other place than Hotel Yapahuwa Paradise to make your wedding-day and your wedding photography unforgettable: Use our landscaped outdoor park and colonial art of indoor facility for your perfect wedding photos. The structure of Yapahuwa Rock and the nature surrounding will definitely add the royal essence to start your journey in king's style.
Family/Birthday Party Event
You need a location for a party with many guests? Then book our facilities and let us take care of all your wishes.